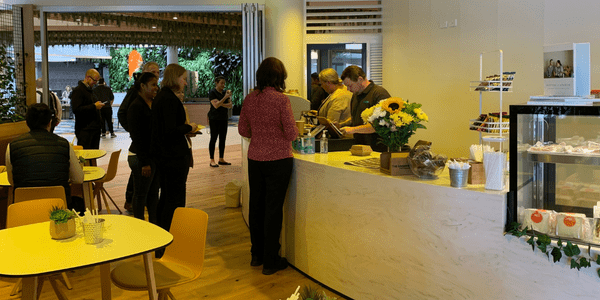 This week we celebrated the reopening of our Penrith cafe. Located in the Penrith Civic Centre, the café is in the beautiful, renovated foyer next door to the Penrith City Library.
The café opened last year after enjoying the major makeover, but unfortunately had to close due to the COVID-19 pandemic.
Civic Cafe Penrith is part of Civic's inspiring Kitchen and Catering social enterprise which provides vital employment and skills training in the food-service industry for people with disability.
On Thursday this week, the café turned yellow as part of the Council's R U OK day event. Noelene and Joel were busy serving up delicious hot coffees, sandwiches and treats. It was fantastic to see the cafe full or people enjoying Civc's wonderful service. 

Civic Cafe Engadine will also open its doors officially from Monday. The café will be open for breakfast and lunch, 8am – 2pm Monday to Friday. 
For more information on our Civic Kitchen & Catering social enterprise please call 1300MYCIVIC (1300 692 484), email enquiries@civic.org.au.