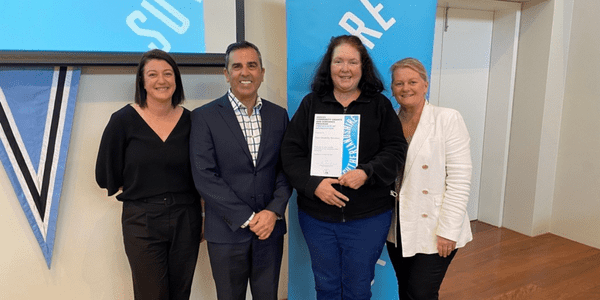 Last week, Civic was invited to present at Sutherland Shire Council's annual community grant presentation. Held at Cronulla Surf Lifesaving Club, the presentation celebrated and recognised the local not for profit organisations and their community projects.
Sutherland Shire Council Mayor, Carmelo Pesce, said they received over 65 applications this year, awarding grants to 39 local organisations whose programs and community services enrich the lives of residents and improve community awareness and connection.
Civic was successfully awarded two grants for the Ring O' Roses Community Connection event project and the Connect Hub expansion of Civic@Home.
Out of all recipients, Civic were one of just three selected to present. Tracie Junghans, Civic's Marketing Manager, Lucy Lawless, Civic Crew Leader, and Lori Campbell, Civic Industries and Ring O' Roses team member, addressed the audience, demonstrating the impact of not only these programs but the overall impact Civic has on our staff, clients and community. Thank you for representing Civic so well!