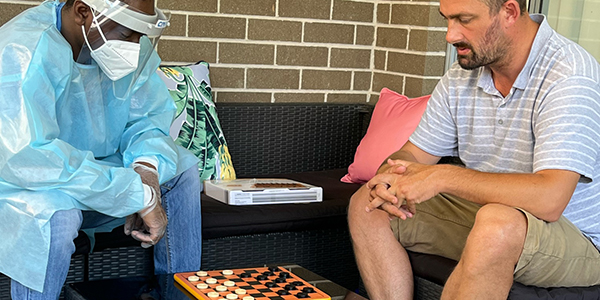 The South West Sydney team pulled together during the recent COVID-19 spike to continue to provide supports and services to clients and support each other through the challenging period.

From driving across Sydney to deliver Rapid Antigen Tests and PPE, adapting to changing working conditions, helping clients isolate, to continually having to rework rosters to cover shifts and deliver supports under challenging circumstances, stories across South West Sydney Civic sites demonstrating the team's commitment and passion to our community continue to emerge.

Annette Connolly, Operations Manager SWS was quick to praise the team.

"From the moment the COVID cases were confirmed, the team have gone above and beyond, putting our client's needs first."

The team demonstrated they are not just here to provide service that they are here to support our clients for all their needs. Whether it is providing peace of mind by helping them understand the current circumstances, helping manage their anxiety caused by change of routine, or caring for them while they are unwell – staff continued to put people at the centre of everything.

One such example is from the McCarthy team. During a recent lockdown period a client became increasingly anxious and confused that his normal breakfast routine was disrupted, causing him to experience an outburst toward a staff member.

The staff member immediately looked for a solution to help the client cope. While working within COVID protocols the staff member took it upon themselves to implement a deep clean process to unlock part of the house to allow him to keep his routine of eating breakfast at a certain kitchen table. This is a wonderful example of Civic's person centred approach to service delivery.

"Staff really worked together over this period," says Annette. "Staff across all our sites including Blue Mountains, Great Western Hwy, McCarthy and Murrandah followed all COVID-19 protocols and showed great commitment to our clients and each other".

Due to the success of the team working together and following protocols and procedures everyone remained safe during this peak time.