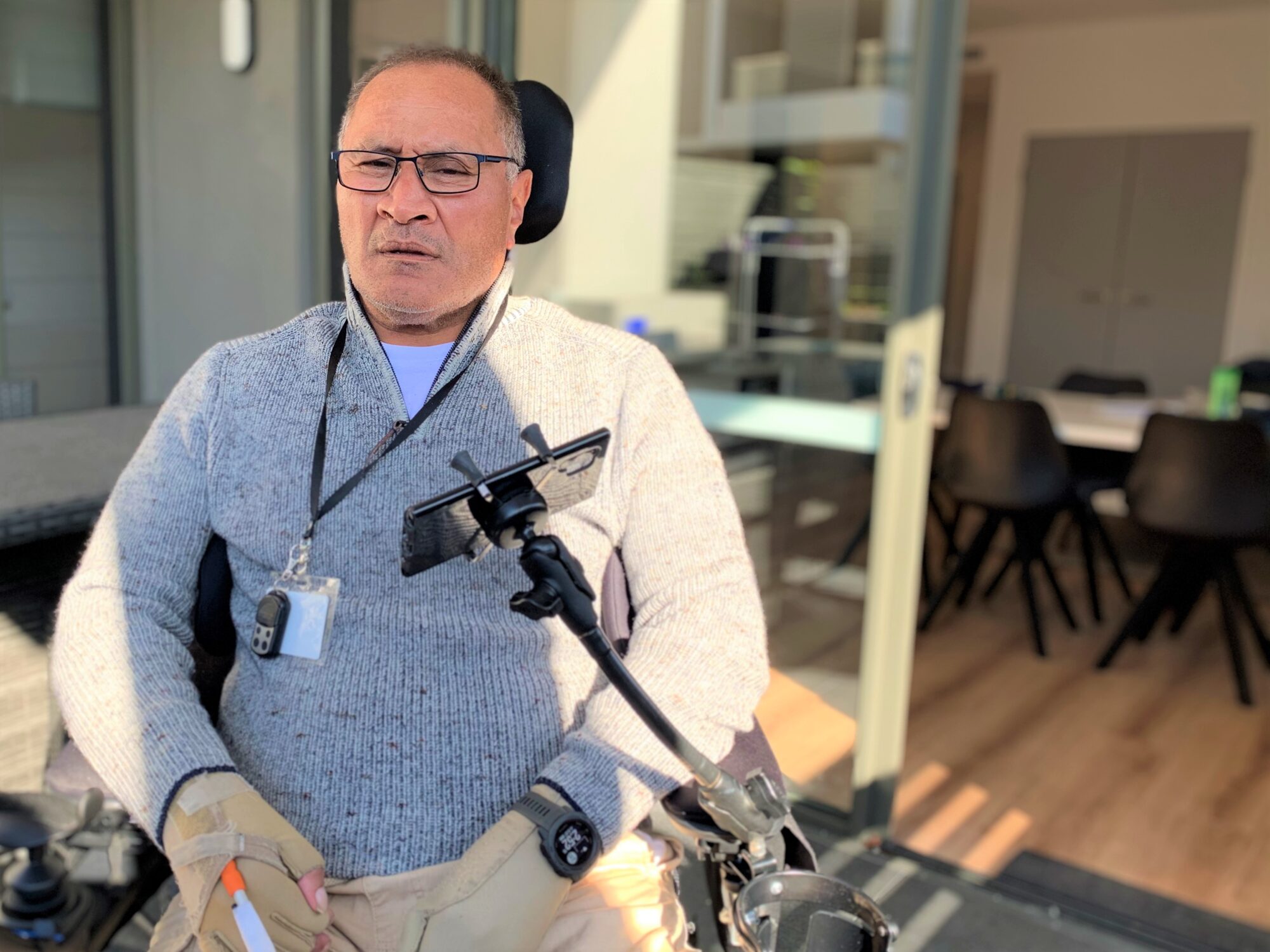 Jonathan recently moved into the brand-new Palais apartment building in Sans Souci, South Sydney. The modern, high-quality Specialist Disability Accommodation (SDA) apartments are offered by Enliven Housing, with on-call, as-needed supports provided by Civic.
As he settles in at his new home – a modern, two-bedroom apartment – Jonathan shares his journey to securing a suitable place to live which meets his support needs, while allowing him to maintain privacy and independence.
A NEW WAY OF LIVING
"This is all still so new to me. I am getting used to a new way of living," said 51-year-old Jonathan who, until little over a year ago, was working long hours in a demanding role in construction. "One morning I had a fall in the shower and was left unconscious. The reason for the fall is still unexplained, but it left me with a significant spinal injury."
"I was in hospital for eight months, working on my rehabilitation. Then I spent three months in short-term, transitional accommodation where they prepare you to go home after a spinal injury. It was great, like a hotel, but you can't stay there forever, you have to move on. I couldn't go back to my old flat, because it wasn't at all accessible for my wheelchair. I had no idea about the NDIS or SDA, but luckily, I had a great team of social workers and a support coordinator on my side. This is really all their doing. I have them to thank that I have found a place to live that allows me to do what I want, when I want."
SHARING SUPPORTS AS A COOPERATIVE
Jonathan recalls looking at shared accommodation in the first instance, but knew after visiting that it wasn't for him.
"I wanted my own space," he says. "Then I was told about this new build where you share supports as a cooperative with other tenants but have your own private apartment. It sounded ideal, and when I saw it, I knew it was exactly what I wanted."
There's been a lot for Jonathan to take in over the last few months. "It's a learning curve and it's still all sinking in," he says. "I am still learning how I want to live and how I can live, so being in a place that allows me to just be, is really important."
Jonathan is now working on turning his new apartment into a home. He is focused on getting his supports in place, setting up his assistive tech and bringing in some personal touches. "There is a lot still to do, but I already feel comfortable and at home and that's a great start."
A REAL ALTERNATIVE TO SHARED HOUSING
Katy, Practice Leader at Civic, has been working as part of the team supporting tenants with the transition to their new home at The Palais building. "We are really excited to see the first tenants move into what will hopefully be a stable, long-term home for 10 individuals," she says.
With a total of 10 apartments, four tenants have now moved in. "The paths which led the four individuals here are all very different," says Katy. "There are individuals in their 30s, 40s and 50s. Some have high physical support needs; others have intellectual disability. They have either transitioned from hospital, unsuitable housing or aged care. And, while each individuals' support needs are widely varied, the one thing they all have in common is a desire to live independently on their own terms."
"This partnership with Enliven Housing provides individuals with SDA funding a real alternative to shared housing. It's a unique housing model, whereby tenants live alone, but collaborate on decisions relating to their shared supports. There is equal opportunity for social and peer connection, and privacy and independence when required."
CIVIC & ENLIVEN
The vertical build at Sans Souci offers 10 tenants with SDA funding an opportunity to live in a modern home, in a location they like – close to the things that are important to them, like restaurants, theatres, shops, transport and work.
The apartments are fully accessible and are provisioned to support the installation of intelligent technology that ensures that on-site support staff are always contactable.
The apartments incorporate smart home technology, adjustable benchtop kitchens, adjustable basins in bathrooms, wheelchair accessible private outdoor areas.
As an expansion of our Concierge Support service, Civic provides tenants at the Palais apartments with 24/7, on-call supports, providing unplanned support for tenants when they need it.