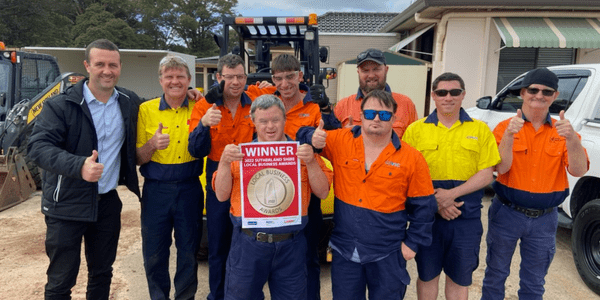 Congratulations to Woronora Memorial Park for being awarded the 2022 Sutherland Shire Local Business Access & Inclusion Award.
Woronora Memorial Park is managed by Southern Metropolitan Cemeteries NSW and is a long-standing partner of Civic Disability Services.
Civic proudly nominated Woronora Memorial Park to receive the Sutherland Shire Access & Inclusion Award to acknowledge the employment opportunities and positive outcomes for people with a disability the organisation has provided for many years.
Through its partnership with Civic, Woronora Memorial Park has employed a group of people with disabilities to provide lawn care, gardening and maintenance services.
Civic Lawn Crew have been providing grounds maintenance at Woronora Memorial Park since 2014. In 2018, Southern Metropolitan Cemeteries expanded employment opportunities through the inclusion of the Civic Car Washing Crew and extended both services to Eastern Suburbs Memorial Park.
Through this inclusive employment people with disability access training, building skills, increased confidence and are part of a positive and supportive work environment.
"I enjoy pulling weeds and the doing the edges around the plaques and headstones. It's great talking to everyone and having a laugh. Being there makes me feel good. I could work there for another 100 years – until I am in there!" Geoffrey, Civic Crew Member at Woronora Memorial Park.
In the Civic Crew model, Civic brings a team of individuals with disability, together with an on-site supervisor, who provides support and training to work within different businesses in the community. Types of roles include, but are not limited to administration, warehousing, events, hospitality, cleaning, catering, car washing and lawn care.
Congratulations again to Woronora Memorial Park and Southern Metropolitan Cemeteries for their ongoing commitment to increasing meaningful employment opportunities for people with disabilities.
Southern Metropolitan Cemeteries NSW is a part of the Office of OneCrown Cemeteries.
Learn more about Civic Crew and employment opportunities for people with disabilities.